A study recently printed in Organization Science, as cited by Science Daily, has just published findings on gender differences, specifically in social networks, in the workplace. Using data from two firms which were mostly male-dominated (eye roll🙄), Organization Science reported that women are more likely to declare another woman a "difficult coworker" than are men. However, the rate was lower in women who had a better support and social network groups with female coworkers.
In plain English, this basically means that it's good to be friends with your female coworkers! There is so much to be gained from solidifying strong, reliable female friendships in the office. There's nothing better than having a collaborator to bounce ideas off of, especially when that person is a dear friend. Look no further than Tina Fey and Amy Poehler for the literal meaning of the words "girl power." Together, they are unstoppable.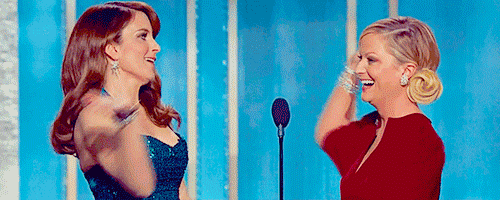 The study goes to show that women tend towards both ends of the spectrum; being against each other and supporting each other. Clearly, the first option is the healthier, more beneficial, and most fun way to go. Why not make friends with your female coworkers? Women's empowerment, vinas! 👩‍❤️‍👩
Remember, less conflict = less distraction = more leaning in. Make Sheryl Sandberg proud and check out our article on how to make a work BFF. You'll be so happy to have someone to ease the pain of those Monday mornings, pick you up when the stress of your workload is getting you down, and be there to cheer you on whenever you need it. It can undoubtedly be intimidating at first to take the plunge, but completely rewarding when accomplished.
Tell us about your friendships with female coworkers! If you're looking for some new ones, don't forget to download the Hey! VINA app!
(Featured image via @meganmmichele)