Picture this, vinas: you're at a killer networking event with influential people in your industry. You're shaking hands, having inspiring conversations with total game changers and sharing the latest with your new networking circle. Just as you're finishing a totally stellar conversation, they ask for your business card. Your heart skips because you haven't updated your business card in a while. They hand over their totally innovative card. Here's how to beat the anxiety and wow them back with your stellar stationary!
BASIC BE GONE 
The basic weight of a business card is expected. Yawn. But you can chose a business card that is a bit heavier than normal. When you hand over the card, you'll leave the impression that you are willing to go the extra mile with even the smallest details.
GET WITH THE FEELING
The texture of a business card can also make a difference. Incorporating as many senses as possible really helps. You can get a business card that is textured or sleek. There are even business cards that are textured in a special way so that they are eco-friendly and grow into flowers! Don't be afraid to get creative!
SHAPE SHIFTING
The ho-hum standard rectangle is out. Triangles, circles, or stars are a fun way to make your business card stand out. You could even have cutouts of different shapes on your business card. If you're a musician, you could make your card in the shape of a music note. If you are a stylist, you could make a card in the shape of a hanger! It's totally adorable and also shows you know how to brand your business well.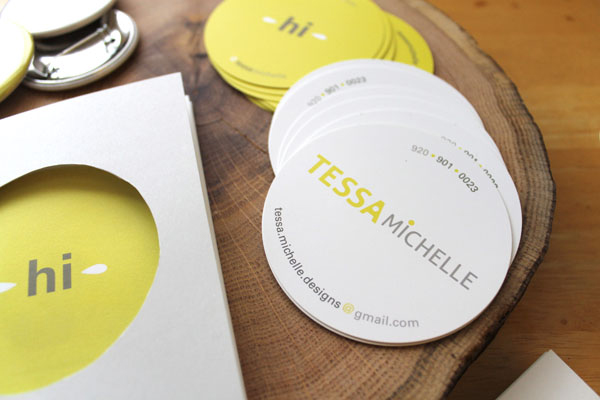 LISA FRANK TOLD ME TO
If there's something that Lisa Frank knows…it's how to make use of color! White backgrounds have been used over and over, again. Some colors that stand out are silver, gold, neon or transparent. If your business or service is already associated with a particular color, go for that one! Don't forget to add your logo if you have one that identifies your product or service.
GET SOCIAL
With the tech-savvy world that we live in, today, it is completely beneficial to include your social media information on your business cards. This has two benefits: people can see that you are a total pro at managing your social media accounts and they can be led directly your website or to purchase your product or service (or learn more about you)!

SPACE OUT
The days of the one-sided business card are over, vinas! Make use of your creative space by using both side of the business card for your information. For example, if you're an artist, you could use one side of the business card to display your contact and social media information. On the other side of the business card you could show off your latest piece.
MEMORABLE PARTING
The best way to leave a lasting impression when you hand over your business card is to use open body language, flash a killer smile, and let them know you would love to follow up with them by "x" date. Let the awesome person you are giving your business card to know that this isn't just a piece of paper with information on it, but a opportunity to create an awesome new relationship!
So, next time someone asks for your contact information, you can proudly hand over your killer business card with confidence! Now go out there and rock your new social networks, vinas!
What's your fave business card design? Tag a vina and comment below! 

(Featured Image via Grants from the Government)